Why do we give?
"The point is this: whoever sows sparingly will also reap sparingly, and whoever sows bountifully will also reap bountifully. Each one must give as he has decided in his heart, not reluctantly or under compulsion, for God loves a cheerful giver. And God is able to make all grace abound to you, so that having all sufficiency in all things at all times, you may abound in every good work." (2 Corinthians 9:6-8, ESV).
As Christians we believe that everything we have has been entrusted to us by God (Gen 2:15, Ecc 2:24, James 1:17). We're also made in His image (Genesis 1:27 and James 3:9) and should reflect His character.
In His generosity God may have given us possessions, money, time and talents. His ultimate act of generosity was giving us Jesus who paid off the debt of sin that we owed so that we could be forgiven and reconciled with God.
Therefore, how we live and think about "our stuff" should be different. We are to be generous stewards and givers; not hoarders filling up our homes and bank accounts for the sake of our own comfort.
How can we give?
Everyone at Grace Church (even those on our paid staff) are encouraged to give generously into the church on a regular basis. This isn't just about money (we also give of our time, skills and resources) but, where money is concerned, here are some of the ways that we can give:
ONLINE BANK TRANSFER
You can set up a direct transfer via personal online banking. Log onto your online banking and request to set up a donation to be made to "Grace Church Stoke on Trent", Sort Code: 08-92-99 Account Number: 67230224. This is a Co-op Bank Account.
STANDING ORDER
Please contact us to set up a standing order from your account if you need any assistance with this method.
IN PERSON
When we meet in person at our church venue, we are able to receive cash deposited into a white metal offering box in the main hall. This is then taken to the bank and accounted for by our finance team.
GIFT AID (tax efficient giving)
If you are a UK tax payer, Grace Church Stoke-on-Trent is able to claim back 25p in every pound that is donated from HMRC. You can download a gift aid form using the button below (or complete one of the giving envelopes available on a Sunday) and place it in the white offering box in the venue.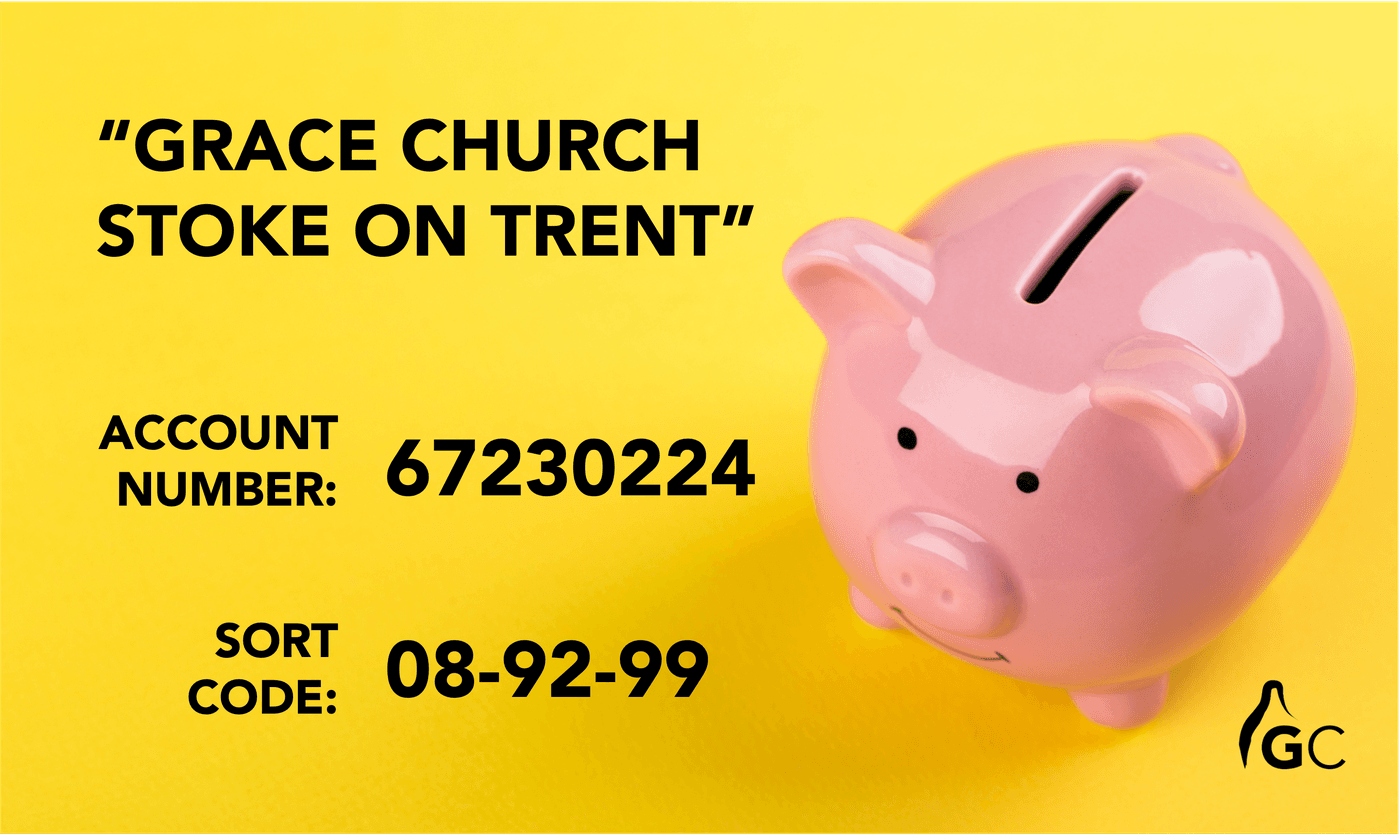 ACCOUNTABILITY
To build trust, transparency and maintain accountability, the Trustees of Grace Church share an overview of our income and expenditure each year at an annual general meeting (AGM) with the church family. This information is also published on the Charity Commission Website.
Our full and detailed accounts are independently audited each year by Stewardship to ensure we are complying with charity law and good financial practice.
DEBT WARNING
We want everyone to be free to give to Grace Church, but we would never want anyone to get into debt, or increase debt, in order to give money. So, we promise that you won't be pressured to give at all.
If you are struggling with debt, or want to learn some hints and tips about how to manage your money more effectively, we have a brilliant team of qualified volunteers who can help you confidentially.